The viewability of display ads is currently an important issue in the world of digital advertising. Twitter does manage to increase its revenues by displaying ads more frequently (read more about this on our twitter blog), but what about the viewability of all those ads? Web marketing specialists have prompted the question of who sees what but above all if it is profitable or not.
Today, advertisers increasingly pay for an ad which was seen and not for something else. In that sense, Google published a study about its platforms dedicated for display, which use the Active View technology such as DoubleClick.
The purpose of the study to is to identify the factors which affect the visibility of display ads.
Google showed that it took this problem seriously and even went as far as admitting the flaws of some of its platforms, which often did not serve a 100% of the planned content.
Results were troubling: it is said that advertisers consign half of their budget to oblivion every time display advertising is used. The study indicated that 56,1% of all the impressions diffused by Google had never been seen because they were displayed outside the browser window area.
When THE international leader of display, who earns 55 billion dollars thanks to advertising, publishes such figures (all this without mentioning fraud), there is an urgent need to understand how this happened. Still, Google explained that some of its invisible ads were monetized on a CPC basis. This meant that a great amount of ads invisible to users did not contribute to stuff Mountain View's pockets. But still, one ad display out of two is not served to the user.
Web giants for whom display represents a great part of their revenues, usually assert that the view rate of their campaigns is superior to traditional media such as TV thanks to sophisticated targeting methods and a more precise tracking of spinoffs; it is important to keep in mind that it is not always the case.
Why are some ads display invisible?
The place of the ad is very important.  Google asserts that the most visible place for an ad is at the top of a page, right above the fold, and certainly not at the very top as a lot of people may think. Still, the study published by Google confirms that even if an ad is positioned right above the fold this does however not mean that it will be visible.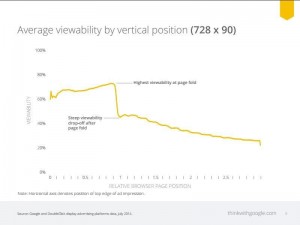 The size is important for display ads . Not surprisingly, the view rate of vertical ad formats is higher than smaller formats. This is explained by the fact that such formats remain visible even when the user scrolls down.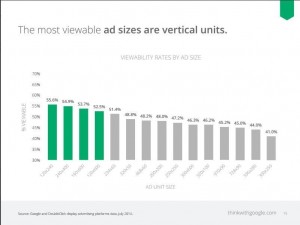 The visibility of an ad also depends on the content topic. Websites with attractive content such as reference, forum and gaming, have a better view rate than food or real estate content.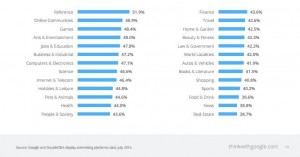 Google added that such study should help advertisers to better understand the inventory of its display services and distribute their budget accordingly.
Google also advises publishers to place their ad spaces more suitably (generally avoiding below the fold) in order to improve the quality of inventory.
In the end, the study raises an issue: Why did not Google notice such trend while creating its inventory? If it noticed it, why did it react so long after?