As you might know already, « Content is king ». To sustain a blog, you need to write quality content. However, this is not sufficient; if your posts are not read, your blog will no longer be visited. Therefore it is necessary to deal with this issue to acquire visibility.
How to make a post visible?
We would tend to spontaneously yell « Social Networks!" and that's fair enough, however, this is not a solution per se. It is not recommended to rush into the creation of Facebook, Twitter pages precisely because it is important to build a solid network beforehand. This goes through, page updates, accounts' visibility, frequency of publication, targeting accuracy…
On twitter and to a lesser extent on Facebook, there are two ways to get visible.
Advertisement                                                                     
Ads help acquire more visibility. Having said that, targeting is not really performing on Twitter and prices are increasing on Facebook. Advertising is a very effective basis to build a community but will not be a viable lever to improve members' quality and qualification.
High share rate
This is the heart of the matter. High share rate means high exposure (number of impressions). The more you appear on the wall or members' News feed, the more your post will get clicked on, shared or liked. To reach a consistent audience, you need to identify the best hashtags keeping in mind that the number of hashtags on social networks needs to be limited as it might have the opposite effect.
Some interesting statistics of the use of hashtags on social networks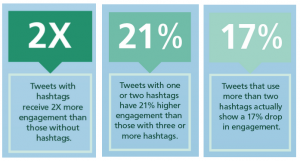 Hashtags are essential for the good spreading of your message, but need to be properly selected in order not to disturb the user's reading. Posting too many hashtags might have a detrimental effect on its visibility.
Which tools can be used to select the best hashtags and make the post visible?
Two tools are necessary to find the best hashtags:
Topsy
Topsy is an aggregator of news coming from Twitter. It gives a snapshot of the evolution of hashtags' trends. Apple took it over a few years ago.
Evolution of the number of tweets per day for #webmarketing and #mobilemarketing hashtags

Hashtagify
Hashtagify can be compared with Google Keyword Planner. It helps users find hashtags which are getting a lot of visibility depending on a specific thematic.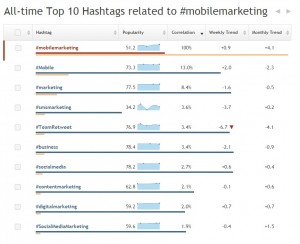 Above, we clearly notice that #mobilemarketing hashtag is increasing faster than #contentmarketing and #digitalmarketing. Google mobile patch and new mobile trends have probably something to do with this.
To find the best hashtag you have to …
Look at the main topic of the post
Check on Hashtagify the most influential ones
See on Topsy the most frequently used hashtags
Select the two or three best hashtags and observe the trends and other hashtags considered relevant on Hashtagify
All you need is to choose now!