According to a report published by marketing specialists, US income generated by mobile and tablet devices are for the first time this year about to surpass traditional media such as newspapers, magazines and radio.   
Income derived from mobile display  increased by 83% and reached 17,7 billion dollars. This is 10% of the total amount of ads displayed. Today, people are more likely to connect via their mobile devices. Mobile users generally spend more than 3 hours per day on their devices compared to only 32 minutes one year ago. By now, the only direct competitors to mobile ads are the remaining leaders, TV and desktop formats such as Facebook, Google and now Twitter (which has just surpassed Yahoo!) who are definitely running the show!
Scarcely believable when we recall the early difficult flotation of Mark Zuckerberg social network: marketplace was quite reluctant regarding its very mobile-oriented business model. EMarketer evaluate that US mobile advertising income will represent 68% of the total amount, which is a 19% increase compared to the previous year.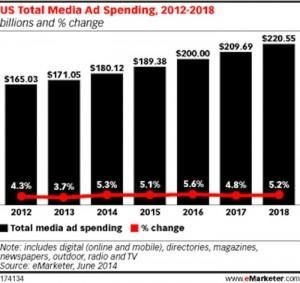 Even if time spent on mobile increases exponentially each year, it is still far from other formats. Besides that, mobile is still lacking Yahoo! and even Google is lagging behind. If we pay notice to the latter's figures, only 37% of mobile income are generated via mobile ads. The figure is expected to be around 66% by 2016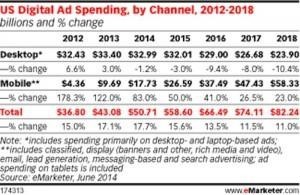 So with all of the above it comes as no surprise that print press and radio inexorably keep on loosing ground on advertising in favour of digital and more specifically mobile and tablet devices. The phenomenon is today more than ever visible since display hasn't stopped increasing for the past ten years.
Thanks to mobile and TV (possessing the most of market shares) the total number of diffused ads has grown by 5,3 %. According to eMarketer, it is the first time we experience such growth since 2004 (+6,7%). This represents as little as 180 billion of collected profit!
Do you need mobile ads for your website?
So after the above you should be more than convinced to integrate mobile formats on your page. Thanks to eMarketer report, we clearly see that it is crucial to take an active interest into mobile!