If you have reached this page, it means that you are perfectly aware of the work required to manage a blog and grow traffic. I recommend you to prepare a cup of tea, turn the music off and focus on what follows. This is the sinews of war.
Welcome to chapter 1 of this guidebook on how to grow traffic. It will provide you with different solutions leading you to build up a real and strong community of loyal readers in order to qualify it afterwards. This is a key point of web marketing. All of this takes time and energy but a strong community is a valuable asset you will be able to rely on.
There is much information in this guidebook but this is the most important part. Every blog turns around its community and it will be THE element that will push you forward in your field. You can spend a lot of resources paying for PPC but without reaching readers loyalty, your ROI and readership will not be of real value.
Enough with theory, now to practice!
If you have a blog, you are already able to build a community via social networks. That's quite efficient, but the purpose is to grow it. If you haven't started yet, no worries, everybody can leverage this article to build up a blog community.
First of all, you need to know that every person you get in touch with, via email, tweets or chat messages is a potential community member. Pay attention to these active members. Some people might remain silent but all of these people can possibly share your content, which is why you need to address precisely and directly your audience.
Hereinafter we will see step by step how to build your community thanks to all the tools available on the web.
What is a blog community?
It is a group of followers, people who sign up to your newsletter or anybody willing to be informed of your blog update. People who do read and comment your blog are also considered as community members since they may share your content, hence allow you to get a little bit more visibility.
Define the perfect target !
Forget about your pre-conceived ideas. At this moment, we are talking about your audience, meaning that it is very complicated to change it. What you should do is sit down, write a few blogs without questioning, and observe the trends. Following, go on Google Drive and create personas.
Example of personas while defining the target and community of your blog.
Try to add a maximum of info and details amongst the three or four profiles of your personas, in order to better understand your audience. Thus, you will be in a better position to define your editorial line. Your page will be perfectly organised; all of your readers will not have to sort your articles. It is very important always to keep the same editorial direction because search bots will collect all of these elements and understand better the topic of your page while in the same time grant users an optimal experience.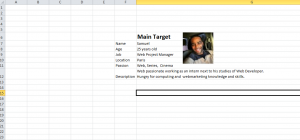 Start with Facebook.
No need to introduce you Facebook, the biggest social network of the world. The page gathers more than 1 billion active users per month. To build a community, you need to be where people are, and people are definitely on Facebook. In this part, I am going to explain to you the different steps to follow to create a Facebook Business Page and enlarge your community. As you create your community, you will progressively be able to start marketing your posts and grow traffic in the purpose of getting your readers' loyalty.
Step 1: Install your page
Go on Facebook for Business page

Click on Create Page and define your activity; select the type of business you are running and add your logo, cover picture and all the required information. The more information you add, the more visible you get and read.
You need to keep in mind that Facebook is a powerful tool entered in the customs and habits of a great amount of people. It is first via Facebook and Google that users recover information, which is why you have to provide as many details as you possibly can on your Facebook page.
Step 2: Get in touch with influential pages of your sector
Once you have created your page, it is essential to get in touch with influential members working in your field. The purpose is not to beg for something but rather try to get known. You can ask for a like in exchange of quality content. Try to attract your interlocutor highlighting the benefits that he or she could derive from following you, for example competitive watch, additional tips on blogging or even get some links about the same topic. In that sense, always try to offer more than you could be given. In the end it will be a win-win compromise anyway.
Do not be anonymous and always sign with your name, because this is precisely the first contact with the community and it has to have a positive impact. Obviously sending massive emails might be fast and efficient, to a certain extent, since you would probably get fewer replies than if you send personal and personalised emails. The blogger will see that you are really interested in his page and he will be more receptive to your message.
Step 3: Like other blogs/brands & comment
Many people use Facebook for competitive watch. Just click on "like" on some more pages and try to grab admins' attention commenting their posts frequently. If you get in touch with an admin and express steady interest in a page, you will be more listened if you come to ask for a service or partnership.
Similarly, if users comment on your page, take the time to reply to criticisms and compliments. User reviews might push forward or destroy brands. They are even more taken into account when the brand is not known yet. Be reactive! However, as crazy as it sounds, "95 % of negative reviews may turn into loyal users/customers if the brand manages to bring a solution", said a specialist of TrustPilot. This is why negative reviews might be seen as a real opportunity provided you prove that people are right to follow you.
Step 4: Use Facebook Ads
Yes, today you need to pay to be visible on Facebook. Reach is more and more difficult to get without followers and you will probably encounter some difficulties to develop a community made of others than your friends only. A few euros are likely to be sufficient to start matters moving.
Facebook Ads will help you gather a little group of followers. They may not be very active, but will certainly contribute to the snowball effect. Indeed, users who don't know you will first evaluate your potential focusing on the number of followers you have. Whatever the quality of your posts, the first impression of users is often deduced from figures and Facebook Ads will help you overcome this first obstacle. Leverage your posts with intelligence and try to acquire thousands of followers. Rate: A hundred euros maximum.
Step 5: Partnerships
Want to work with other bloggers or alone?
Facebook is an excellent alternative to push forward quality content with the help of other actors of the field. External content can possibly attract your audience. A page pointing in other blogs about the same topic is better than limiting to always publishing your own and same content.
Such activity might usually take the form of, a share of the page administration between the different partners or an automatic publication of posts coming from other influential blogs. The point is to find the right partners, meaning those attracting the same audience and a similar or better quality content otherwise the brand image would risk suffering.
Step 6: Write original posts with hashtags 
Facebook launched the hashtags a few years after Twitter did. Noticing the positive reputation of this usage on social networks, Facebook also decided to leverage it. However "reach" and CTR do not increase, which is why it should not be used excessively but should rather remain a post "title".
How to find the best hashtags for your blog?
Hashtags are very used on Twitter especially for message filtering and information search. This trend is not as practised on Facebook, but remains a very useful tool to bring forward posts.
Conclusion
Building a community takes time and cannot be improvised. The action needs to be carried out seriously because it is the basis of the following operations. Facebook is not a goal in itself when it comes to gather a community around a blog. Any other social network has its advantages; the point is just to know what to do and with which tool.